UNMATCHED
PATENTED
FEATURES
THE GAC® GRIZZLY AND GRIZZLY CUB FIT ON MOST EQUIPMENT LARGE AND SMALL.
GRIZZLY PATENTED SUPER HEAVY DUTY DOUBLE BAR FRAMEWORK - Quadruples the strength, includes universal tractor mounts, brush and PVC extension brackets and the short roll arm. GRIZZLY is 7' wide non telescoped, 8' wide with PVC for legal transportation on highways.
GRIZZLY PATENTED TELESCOPING DUAL ARMS ON BEARINGS - Standard mechanical dual arms telescope to 20' with pre drilled holes for optional hydraulic telescoping. The mainframe and first telescoping arms have bearings for fast, easy telescoping. The brush ends can line up exactly on the fabric edges for fast set up and not have the machine wider. Other rolls of other Geotextiles for other applications for stabilization, separation, drainage and more along with Hybrids and GRIDS are easily installed with the GRIZZLY to 19 feet or Grizzly Cub to 16 feet.
GRIZZLY CUB TELESCOPING SINGLE BAR FRAME - Single mechanical arms to 15' 6", there are no bearings, stops or locks. It's 7' wide non-telescoped and 10' wide with PVC. Requires minor PVC disassembly for transporting. Grizzly's 8' wide PVC system with extensions and extension bracket is optional.
PATENTED SLIDING THIRD MIDDLE ARM - GRIZZLY's sliding folding middle arm holds rolls 1' to 10' centered or off centered. The CUB has an optional clamp on folding middle arm. Shorter rolls like edge drain and full roll to short roll changes and vice versa are fast and easy. Off centering provides real versatility.
PATENTED UNIVERSAL MOUNTING BRACKETS - Fits endloader arms 25" to 48". 3/4" pin 12" long with 3/4" x 1" OD bushing. Fits endloader bosses up to 12" wide. GRIZZLY comes with standard tractor mounts and optional pin in bucket mounts. CUB comes with standard bucket mounts and optional tractor mounting system.
SPECIAL OIL TRUCK MOUNTING SYSTEM - Modifies the truck so the fabric is unrolled into the oil in one operation. A special hydraulic lifting frame is added to the truck behind the spray bars and attaches to the Grizzly universal mounts from behind pulling the unit behind the truck. The unit raises and lowers for roll loading and transportation. When needed do to heat shrinkage or tight installation it quickly unpins and installs on a tractor and then back to the truck.
PATENTED TELESCOPING ANGLED BRUSHES - Sweeps the fabric from the center to the outside eliminating most wrinkles, they can be straightened for installing grid, non-telescoped brushes 6' 10", telescoped brushes 13'. Brushes edges line up exactly on the fabrics edge, place fabric next to curbs or previous asphalt lifts. With other patented features most wrinkles rolled in the roll from the manufacturer are removed. One set of brush extensions for 15' fabric is standard on the GRIZZLY and optional on the CUB, a second set for 18' fabric is optional on the GRIZZLY.
BRUSH TENSIONING AND ADJUSTMENT - GRIZZLY and CUB have an articulating center brush mount that levels the brushes with the road crown. There are two outside brush jacks for fast and safe adjustments. The mount is adjustable in height 3 1/2".
SPECIAL GAC POLYPROPYLENE EXTRA FILL BRUSHES - The brushes do not melt and are easily cleaned. 50% more fill so the fabric doesn't pinch between the bristles. A one inch thick wood block with threaded sleeve and a bolt is included.
PATENTED ROTATING SPINDLE BRAKING ROLL HOLDERS - Disc brakes control the roll's turning speed, different adjustment makes it possible to pull curves. Inexpensive brake pads, a T-screw and nut are the only replacement parts.
SOLID STEEL CONES FIT ALL SIZE ROLL CORES - Fit all fabric cores from 3 - 5". The heavy duty solid steel blades do not bend or need replacement. Their edges are easily sharpened with a file.
PATENTED CRABCLAW SWING ARMS - Two standard mechanical on the GRIZZLY with an optional hydraulic. The CUB has one mechanical,and one solid non-swing arm, a second mechanical or hydraulic is optional. Crabclaw style installs next to curbs, guard rails and within 6" of walls. Two swing arms permit loading or short roll off centering from either side. Roll diameters are 32" on the GRIZZLY and 30" on the CUB.
PATENTED DUAL BAR TELESCOPING PVC TENSIONING SYSTEM - Tensions fabric twice keeping it taught before brushing. Six heavy duty sliding PVC adjustment brackets and clamps. The GRIZZLY is 8' non-telescoped for legal transportation, 14' telescoped with four screw-in, 24" extensions to 18' wide. The CUB is 10' non-telescoped, 15' telescoped and requires some disassembly for transportation, Grizzly's 8' wide system with extensions is optional on the CUB. A special Dual PVC Roller System is available for installing grid.
CLICK ON IMAGE TO ENLARGE... USE BACK BUTTON ON BROWSER TO RETURN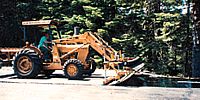 GRIZZLY using the patented universal tractor mounts.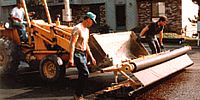 GRIZZLY CUB using the universal clamp on bucket mounts.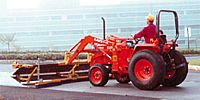 GRIZZLY CUB using optional patented tractor mounts, standard on the Grizzly.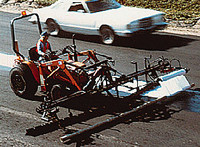 Install short rolls 1' to 10'. Change size centered or off centered in a minute.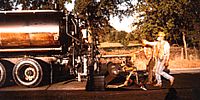 GRIZZLY with GAC's special oil truck mounting system.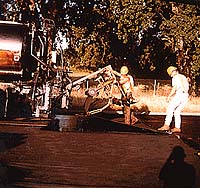 Lowering half way for roll loading and to start fabric placement.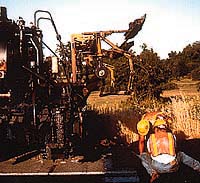 Raised up behind truck for easy transport and set up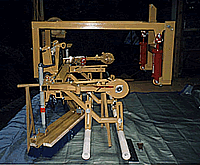 The oil truck mounting frame attaches to the rear and raises hydraulically. It extends over the Grizzly and pins into the universal tractor mounts. As the truck drives forward the Grizzly lays the fabric into the oil in one operation. On days when the temperature gets too hot and the oil is not cooling fast enough the Grizzly can be quickly unpinned and mounted to a tractor in a few minutes, using the tractor mounts or optional pin in bucket mounts.