GRIZZLY and
GRIZZLY CUB
The World's Best and the
World's Second Best
Telescoping Paving Fabric
Installation Machines - the
best in paving equipment
for sale.
Their design hugs the fabric
to the road so closely,
laydown is faster and
virtually wrinkle free.
M

ounque "Monk" Barazone combined his six U.S. Patents and nine state-of-the-art features and over 20 years experience into the most versatile, easy-to-use, solidly-built installation machines ever manufactured!
U.S. and foreign patent numbers:

4,555,073 - 4,657,199 - 4,657,332 - 4,699,330 - 4,705,229 - 4,742,970
CLICK ON IMAGE TO ENLARGE... USE BACK BUTTON ON BROWSER TO RETURN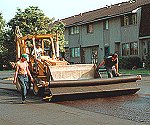 CUB installing a 15' roll
using the optional brush
extensions in PA Notice
smooth laydown.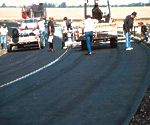 GRIZZLY on a tractor
installing around curve in
SD. Notice smooth, almost wrinkle-free installation. Pulling nearly smooth curves are easy with GAC.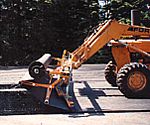 GRIZZLY installing a 12-1/2 roll. Patented Dual Bar PVC Tensioning System and Angled Brushes reduce wrinkles and installs smoothly.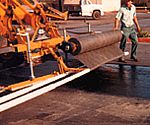 GRIZZLY installing a 6' roll using the Patented Third Middle Arm with Patented Braking Roll Holders.