ROLLER TENSION SYSTEM
(Please be patient - Opens PDF)
The ROLL PULLER™
(Please be patient - Opens PDF)
ALL ABOUT
PAVING FABRIC INSTALLATION
CUSTOM EQUIPMENT
(Please be patient - Opens PDF)
CONSULTING
(Please be patient - Opens PDF)
PAVING BRUSHES
(Please be patient - Opens PDF)


Since 1980
Geosynthetics Equipment
Manufacturer|
Consulting and
Custom Equipment
The World's Two Best
Telescoping Paving Fabric
Installation Machines
Grizzly 600T and Grizzly Cub 300T
Oil Truck Mount System for Grizzly
They hug the fabric to the road so closely
Laydown is faster and virtually wrinkle free
Roll Pullers
for unloading Trucks, Vans and Containers
Consulting
Jobsites, Training, Supervision
Education, Project Problems
Custom Equipment
Manufacturing
Build to your plans
Design Services
Equipment Worldwide
Standard, Custom and Roll Pullers
are in use in over 60 countries
Mounque "Monk" Barazone combined
his six U.S. Patents and over 32 years of
Hands on Experience into the World's Best
Geosynthetics Roll Installers, Roll Pullers, Custom Equipment, Educational Courses, Jobsite Consulting, Training & Supervision
Since 1980 "The World's Best"
REMEMBER
It's not the tractor, it is the laydown unit that installs the fabric.
----------------------
GAC's Machinery
INSTALLS FABRIC BETTER
U.S. and Foreign Patents
US NUMBERS :
4,555,073 - 4,657,199 - 4,657,332 - 4,699,330 - 4,705,229 - 4,742,970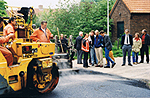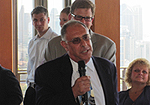 CLICK ON AN IMAGE TO ENLARGE... USE THE BACK BUTTON ON BROWSER TO RETURN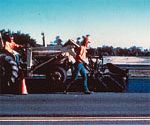 Installs next to guard rails, fences, and other obstacles.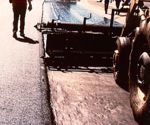 Installs next to curbs and prior asphalt passes.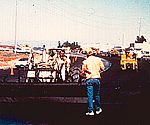 Pulling nearly wrinkle free curves are easy.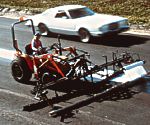 The patented third middle arm installs short rolls, centered or off centered.
1' to 10', on the Grizzly
1' - 8' on the Cub.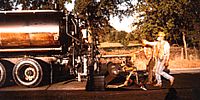 GRIZZLY oil truck mounted unit eliminates the tractor, operator and move in placing fabric and oil at the same time.